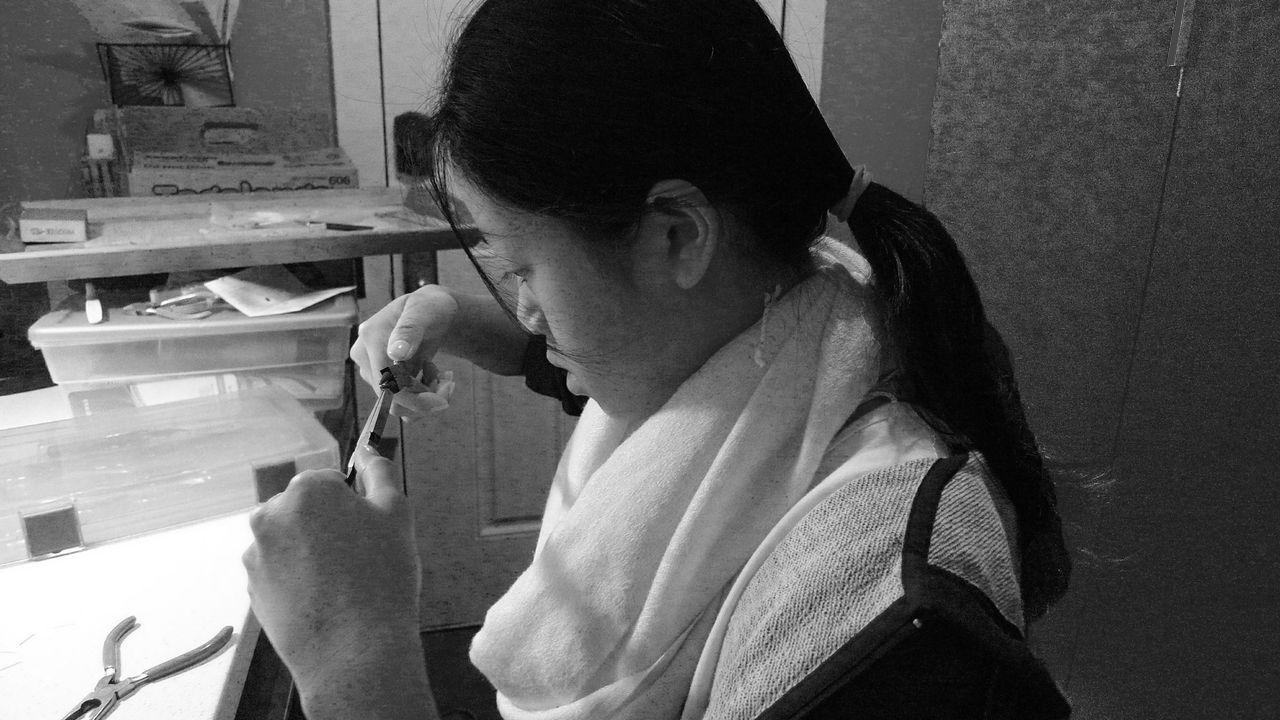 Robin's Bake Box
Working hard at home – In her studio, Shum uses an assortment of tools to bend jewelry wires and form a food-inspired necklace.
Reproduced by permission of Robin Shum
By Alanna Fichtel
There's one there. There's another over there. They are everywhere! You can see freshman Robin Shum's jewelry all over South on students' and even teachers' necks, earlobes, and clothing. Shiny and sparkly, jewelry grabs many people's attention, but Shum's jewelry is different: it's designed by her, hand-crafted by her, and best of all, they look good enough to eat – yum! Through her business "Robin's Bake Box," Shum sells jewelry in the shape of authentic-looking mini foods, and she also sells the real baked goods.
Shum, who has "always loved crafting and baking," found a tutorial online for making polymer clay jewelry during the Hurricane Sandy break. She combined her hobbies and decided to make her own mini food jewelry and baking business.
In her "studio" at home, a little room equipped with her own toaster oven, Shum bakes colorful necklaces, pendants, earrings, and charms out of clay and sterling silver. Each piece takes her about an hour to complete due to its intricate design. She attaches each sterling silver component by hand and wraps her own jewelry wires.
She makes mostly dessert jewelry, such as chocolate chip cookies and French macaroons, based on tutorials she found online. However, some designs, such as the pretzel – one of her favorites – came from her own creativity. Each piece includes the smallest sugary details from the stripes on the candy cane to the frosting on the donut. Shum loves all of her pieces and wears them often, but her other favorites include her chocolate chip cookie necklace and her croissant necklace.
All of Shum's time and hard work paid off in November when her mom debuted "Robin's Bake Box" at a craft fair. She not only sold matching earring and necklace food jewelry but also sold the actual desserts Shum baked herself. Shum had many sales and was very excited about the her debut's success. "I got a lot of compliments on my display and craftsmanship and creativity, which was nice," she said.
Shum also has the support of her family, who helps her run the business. Shum's mother actually attended the craft fair in Manhattan for her because Shum had to be at school. "It was mostly her [starting the business]," said Shum's sister Lauren. "I just told her to keep organized to help manage her business." Her sister also assists her by calculating her costs, which is important because Shum needs to use her profits to buy the expensive jewelry-making materials.
Other than at craft fairs, Shum promotes her jewelry business by word of mouth and by wearing her pieces. Some students at South have noticed Shum wearing her jewelry creations and have asked to buy pieces. "The cookie necklace is so cute and creative. I thought it would be a great Christmas gift for my friend," said freshman Samantha Ng. At a recent Exit 33 meeting, Shum brought some of her pieces because a member was interested in buying her jewelry. After other staff members saw the colorful packages of jewelry, Shum ended up making more sales than she had expected.
"Right now, I'm focusing on further developing my existing business," Shum said. She has her own blog (robinsbakebox.tk) complete with a description of herself and her business, photos of her jewelry and sweets, and welcoming posts with exclamation points and smiley faces. She also has a Facebook page for her company (facebook.com/RobinsBakeBox) with more photos of her work. In the future, she hopes to develop more ideas for mini food jewelry and maybe start to craft jewelry-replicas of other objects.