South's Alum "Glazes" Her Way to the Wall Street Journal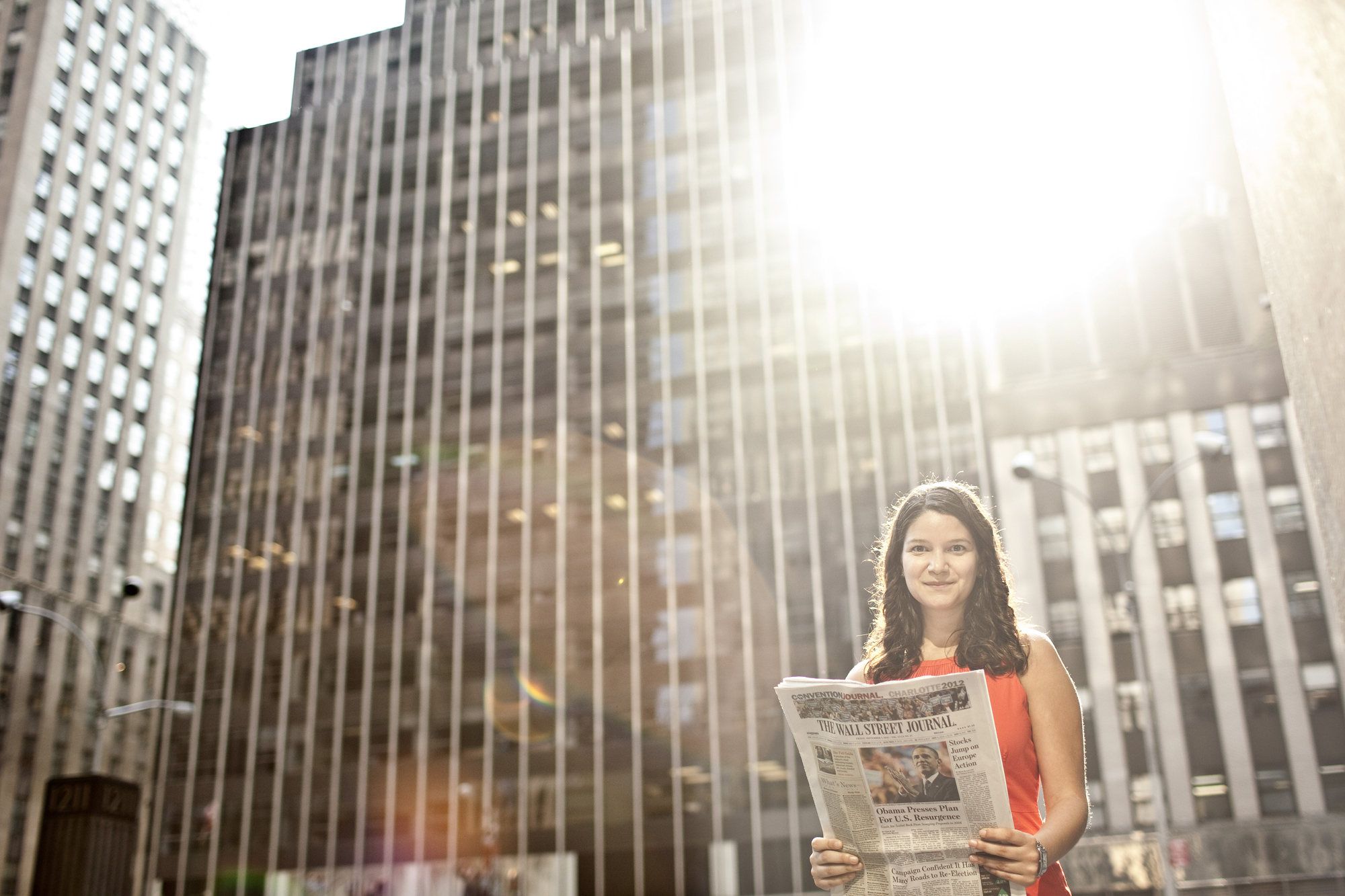 By Caroline Weinberg
On the front page of the April Fools' issue of The Southnerner from 2006, a blaring headline reads, "Editor-in-Chief abducts Randoloph staff." In this story, the monomaniacal head of the newspaper tricks the staff into entering the Southerner office and then proclaims, "I want to leave this school as an Editor-in-Chief legacy. I've decided to lock everyone inside the office until we come out with ten more issues!"
This driven Editor-in-Chief, code-named "Rosie the Riveter," was Emily Glazer. A graduate of 2006, she now works for the Wall Street Journal.
Glazer never really attempted to lock anyone into the Southerner office; she was, however, motivated to improve the newspaper. According to social studies teacher and former Southerner advisor Mr. Norman Wheeler, while some other editors would rewrite entire articles themselves, Glazer always consulted with writers and advised them on how to improve. "Emily led by example. She was always good at respecting writers and editors, and they respected her," he said.
Glazer first considered pursuing a career in journalism when her seventh grade English teacher, Mr. Daniel Weinstein, who studied journalism in college, taught a unit on it. The seventh grade curriculum was flexible, so he decided to teach lessons on different types of articles and have his students write profiles on each other. Glazer said, "That unit interested me. I built upon that interest throughout high school and college."
Her budding interest was evident to Mr. Weinstein. He said, "I knew from the first time I met her she was very driven as a writer, a student, and a person. She was always capable of setting a goal and making it happen. She did everything I said, and she was even studying the New York Times in seventh grade."
Glazer's determination was further revealed  when she revised a writing assignment again and again, trying to make it perfect. Mr. Weinstein said, "I made her cry because I wouldn't give her a 100."
Glazer's incessant quest for improvement is simultaneously one of her greatest strengths and challenges. "One of the toughest parts of my job is there's never enough time in the day. I always want to talk to more people, make a story better, or get more information," she said. "I want everything to be perfect, but when you're on a deadline, that's nearly impossible. I'm still learning to accept that."
Glazer's favorite aspect of journalism is her ability to impact people. While at Northwestern University's Medill School of Journalism, she participated in the Medill Innocence Project. This program has students investigate potentially wrongful convictions of murder. Glazer worked on a homicide case from West Side Chicago and a triple homicide case from Texas. "My reporting led one man to learn about whether he could get out of prison. Working on this project was a life-defining experience," she said.
Glazer again discovered the power of her pen's influence when covering a Northwestern University tenure decision for The Daily Northwestern at the end of her freshman year there. With 1,800 words and two page jumps, it was one of her longest articles. She investigated the University's decision to deny tenure to a popular female religion professor and examined the possibility that gender discrimination was involved. "Two months after that article was published, the tenure decision was reversed," said Glazer. "I learned I could have a tremendous impact."
This inclination to promote change through journalism was apparent while she was at South as well. Mr. Wheeler said, "When she thought about her editorials, she wasn't just thinking about Great Neck. She was thinking about what would be just in a broader realm. She had a bigger vision." In one editorial for The Southerner, she explored how the federal government should focus funding on schools in less prosperous areas rather than rewarding schools solely based on performance. This would allocate money to schools that truly needed it, not schools like South.
At the Wall Street Journal, Glazer continues to effect change. She said, "I'm a storyteller. Just hearing from average people that my story made an impact on their lives is the best part of my day." She has had more tangible influence, too—some companies whose practices Glazer exposes have seen their stock prices drop 40%.