Delicious Dishes from Different Cuisines
Raise your hand if you baked or cooked something new during quarantine? Of course, what else do we do when we're stuck at home! However, after the pandemic has lasted for over 1 ½ years by now, many of us may be feeling a little burnt out cooking everyday. The excitement is gone, and you're struggling to make three meals a day. The solution? Trying new cuisines, new flavors, and new foods. Exploring beyond the usual tastes and textures that we are used to gives us the opportunity to have an open mind towards new and different things. We expand our palettes while expanding our views of various cultures. Below, you'll find three recipes: one each from Cuba, Nigeria, and the Philippines. Each recipe is preceded by a brief history of the dish, a photo of my creation, a link to the recipe used, and tips/tricks to help you along the way. Bon appétit!
Chicken Adobo
At its core, adobo refers to a protein braised in vinegar with salt. Filipinos used this marinade as a way to preserve different kinds of proteins, back when there wasn't refrigeration. Chinese traders brought soy sauce with them to the Philippines, which soon replaced salt in many home kitchens. When the Spaniards arrived, the Filipino dish was renamed with the Spanish word 'adobar' (which means to marinade/pickle), and because there was no record of the dish's original name, the Spanish label stuck. Now it is known as the national dish of the Philippines and has become increasingly popular! The meat becomes so tender and flavorful as it simmers in the vinegar and soy sauce; reducing the sauce also helps mellow the tang of the vinegar and creates a silky, rich sauce that is packed with flavor. Serve it with rice for a delicious meal.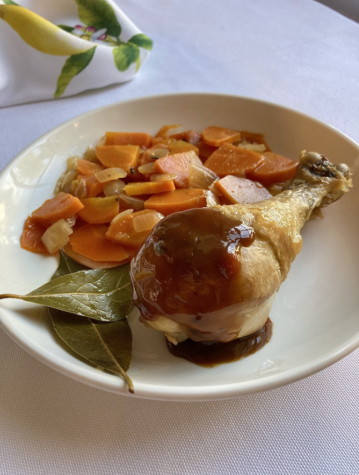 Chicken Adobo
The national dish of the Philippines, usually served with carrots and onions.
A great recipe to add vegetables to! In addition to the recipe, I roughly chopped 1 large onion, quartered 2 large carrots, and added them to a pan at high heat. Saute them for 10 minutes, stirring often. Then start at step 1, adding in the sauce and chicken.

The longer the sauce boils, the thicker it becomes, and the deeper in flavor.

You can substitute white vinegar for rice vinegar, which is found in most stores.

Other variations of this dish use pork, beef, squid, or water spinach instead of chicken.
Classic Nigerian Jollof Rice
Jollof rice is a staple in every West African country, and each has its own take on this classic dish (like how Nigerians use long grain rice and red peppers). Despite the differences, it always has a core of rice, tomatoes, and seasoning. Its origins can be traced back to the Wolof empire (also known as the Jolof Empire) from the 1300s, where rice farming flourished. Jollof was first prepared with rice, fish, shellfish, and vegetables. As the Wolof people migrated to different parts of West Africa, they brought Jollof rice with them. This mouthwatering dish is flavor-packed with aromatic spices and a tomato broth. Steaming the rice allows it to absorb the flavorful liquid, and each grain becomes delicious and attains a red-orange hue. And it's the dish that keeps on giving, because the leftovers only taste better!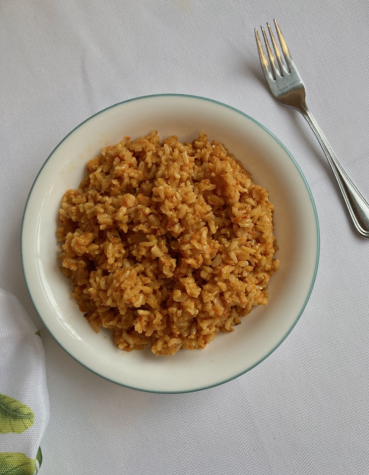 Jollof Rice
A staple dish in West Africa, Jollof rice is both inexpensive and delicious. 
To make this dish vegan, leave out the butter and use vegetable stock.

Hot peppers are optional!

There may be many ingredients, but most of them are to add flavor to the rice. After step 1, it only gets easier! The key is to read through all the steps before you begin, and you'll see that it lays out a plan where you don't have to rush. 

This recipe makes a lot of rice, so it is perfect to bring to a large gathering, or divide all the ingredients by ½ for a smaller batch. (Use 2 ½ tablespoons of oil.)
Pollo a la Plancha
Translated to "grilled chicken," this is a popular dish in Latin America, and one that you'll find on nearly every Cuban menu. It combines a mixture of ingredients from Africa, Asia, and the Americas. Spices used in the recipe, like cumin, were brought to Cuba in the 1600s by enslaved Africans. Both rice and chicken are native to Southeast Asia, and the latter was brought to Cuba by the Spaniards. This recipe marinades chicken in a Cuban-style adobo (no vinegar!), and the thin chicken breast cooks quickly on the pan, preventing it from drying out. Enjoy the tangy, citrus-y flavor of the chicken with rice and beans to experience a fusion of foods.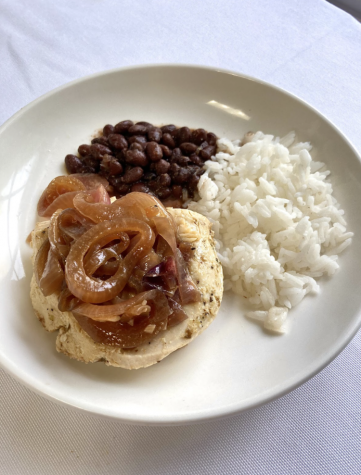 Pollo a la Plancha
Translated to "grilled chicken," it's a quick and easy recipe for a weeknight dinner.
Don't be intimidated by the ingredients! There are 8 ingredients for the sauce, and only 2 ingredients that need to be cooked. 

Bottled orange/lime juice works fine. Another option is to use your dominant hand to squeeze out juice from the orange/lime, and place your other hand below the fruit so that it can catch the seeds while the juice will run through your fingers. 

Wrap the chicken in plastic wrap or wax paper, and use a

meat mallet, pan, rolling pin, or water bottle

to pound the meat until it is uniform in thickness.
It's important to have a varied palate—one that can respect different foods, smells, and spices. Even if we end up not liking a specific flavor or ingredient, we can embrace and appreciate the new experience. As I made these dishes, there were so many flavors that I've never tasted before, and I know there are still many that I've yet to try. Eating meals from different cultures helps change the way we perceive differences. When we approach differences with an open mind, it makes us better humans. We tend to have a judgmental eye towards others who aren't like us, but it's how we are all unique in our own way that makes us similar to each other. It's easy to stay in our comfort zones, but it's also exciting to try new things. I hope you enjoy visiting all these countries from the comfort of your home!