Tackling Stereotypes One Pin at a Time
Wrestling is a head-to-head sport, involving aggressive techniques such as clinch fighting, throws and takedowns, joint locks, pins and other holds.  Now imagine a male wrestler on the wrestling mat being in hold, the referee counting, "3…2. . .1," and above the male wrestler, holding him down, is a female. Though the image might be unexpected, it is typical at Great Neck South High School thanks to sophomore team member Crisia Bonilla.
Wrestling is not like other sports in the sense that it doesn't have sister sport; the sport is predominantly male dominated. Female representation in wrestling is rare, but Crisia is proving everyday that gender is just a barrier meant to be broken as she competes as the only female on South's wrestling team. Crisia is not only the first female wrestler at South—she's the first in the entire district. 
On January 12, 2022, Crisia made district history as she became the first female to win a varsity match. To add to her win, she pinned her opponent from Great Neck North, South's rival. 
Being an athlete in it of itself is hard. It means more than what is seen on the court or field. It means remaining in shape, having the willingness and drive to train your hardest and being able to grow, even as you're criticized, in order to reach your fullest potential. Being a teen athlete is even harder because students must balance training with their academic, family, and social lives. And being a high school female athlete is arguably the hardest of all, as women's sports are still often not taken as seriously as men's. It is frustrating, but female athletes like Crisia are living proof that difficulty doesn't mean impossibility. "As a female wrestler, I can tell you firsthand it isn't an easy job," said Crisia. For instance, Crisia noted how she is the only person on the team who has to wrestle through menstrual cramps. Yet despite this difficulty, Crisia excels.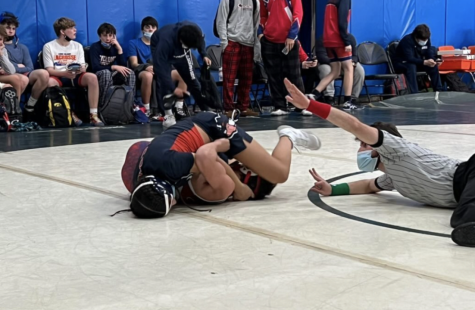 Crisia is constantly putting in the work in order to improve. She wrestles not only for South but also for an all female wrestling club called "CRASH."  The extra hours she puts in have paid off. This season, her record was 4–0. Standing at 9–4, her overall record also exemplifies that she is a force to be reckoned with.  Although she may have already accomplished so much, Crisia has her sights set on more. She intends on competing in the USA Wrestling National Girls Tournament this summer in Fargo, North Dakota.  She also aspires to further her wrestling career in college.  
For Crisia, wrestling goes beyond what happens on the mat. "Wrestling has taught me so much about myself and life itself. Wrestling has motivated me to push myself through any obstacles in life and to always improve myself," she said. She added, "Wrestling has taught me to never be scared or doubt myself in any situation because anything is possible." 
Crisia encourages young females to join wrestling and not be afraid to do what others think is impossible. Although Crisia describes the South wrestling team as a place where gender doesn't matter, she notes that she is lucky because not all atmospheres are like that. 
If anything, being the only female on the team has motivated Crisia to be a model for other young women. "Being the only female wrestler in my town really encourages me to motivate girls to try the sport. Girls wrestling is on the rise, and I encourage all girls to try it. It's an amazing sport that teaches you not only self defense but [also] teaches you how to get through things in life. Although it's a male-dominated sport, girls are slowly growing the sport day by day. In the future I hope more girls from Great Neck try the sport and learn to love it as much as I do."