Here Comes the Summer Fun: A Beatles Playlist for Your Summer Road Trips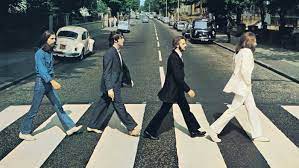 Summer is a time for traveling. Whether you are moving into college, taking a trip with your family, or just having a ride down to the beach, chances are you will find yourself driving somewhere this summer. One of the most important aspects to any successful drive is having a grooving soundtrack to go along with it. And where better to find this music than in the discography of the greatest band of all time. Here is my ten song playlist for your summer road trips, courtesy of The Beatles.
1."Drive My Car"
While it may seem a tad bit on the nose, listening to "Drive My Car" is probably the best way to start any road trip. The song is a perfect introductory piece: the rhythm and incredible lead vocals by Paul McCartney will have you feeling excited for what is to come no matter where you are headed. From its iconic opening hook, this fast-paced, catchy tune will set the perfect tone for the rest of your journey.
2."Here Comes The Sun"
If "Drive My Car" failed to provide enough enthusiasm for you, then perhaps this next song will do the trick. With possibly some of the most feel-good guitar playing and lyrics to ever grace the human ear, "Here Comes The Sun" emphasizes great times on the horizon above all else. It is a song about endless possibilities and the joys of good times (summer vacation!) after a long struggle (AP exams!).
3."Hello, Goodbye"
Now that your ride is underway, it is time to enjoy some classics from The Beatles catalog and settle in for the long journey ahead. "Hello, Goodbye" is an exuberant song about the inherent contradictions in life. With a steady beat and an incredible beat drop towards the end of the song, this tune will push you forward along your path.
4."Eight Days A Week"
Capturing the essence of the earliest days of Beatlemania, "Eight Days A Week" features outstanding performances from each of the band members with an especially noteworthy effort by John Lennon on lead vocals. Evoking memories of a time before any of us were born and an era of music we can only look back with wonder at, "Eight Days A Week" conjures up the pure adrenaline that only being on the road can produce.
5."Twist And Shout"
We are at the halfway point now, and what better way to celebrate than one of The Beatles earliest, and pop-iest, songs. "Twist And Shout" may just induce you to start grooving along in your car. (Although it is advisable to keep your attention confined to the road at all times.) 
6."Yellow Submarine"
Next up on our list is a brief palate cleanser that will certainly be a hit if any kids are joining you for your trip. "Yellow Submarine" was my personal favorite Beatles song as a child and continues to hold a special place in my heart. This ballad about a man who sailed to sea and his life aboard a submarine is as whimsical as it is wholesome. If you are heading anywhere close to the ocean, perhaps you ought to open the window and breathe in some of that beautiful sea breeze. 
7."Ticket To Ride"
Bringing the mood to a more serious tone, "Ticket To Ride" is a classic break-up song whose overall rhythm is still upbeat enough to keep your trip lively and whose infectious chorus will be stuck in your head for miles after the song ends. If you enjoyed this song, you can also listen to "Help!" and "Yesterday" to supplement this portion of the playlist.
8."Get Back"
The last song on The Beatles' last album, "Get Back," never fails to get my foot tapping as soon as the build up to the first verse begins. A track exhibiting the band going back to their roots at the top of their game. The "live" one-take recording is still impressive to this day and will have every head in your car bopping at the start of each verse.
9. The Abbey Road Medley
This pick is technically cheating. It is the eight-track medley off the second side of The Beatles' album Abbey Road that stretches from "You Never Give Me Your Money" to "The End." This is the purest expression of The Beatles' late discography I can recommend and will take you through a tour of a vast and varied musical landscape, not so different from the one passing by your car window.
10."In My Life"
And, of course, the perfect song to close out any road trip or chapter of your life, "In My Life." This song about nostalgia for the past, knowledge of the present, and hope for the future is sure to let all of the feelings pour out, especially if you are one of this year's graduating seniors. In addition to being musically impeccable, this song expresses all of the difficult emotions associated with moving forward in life while still holding on to what you love and as such is the perfect closer for this journey.