Fresh Favorites from the Great Neck Farmer's Market
With the fall of leaves coming upon us, on September 18, the Great Neck Farmers Market moved from Stepping Stone Park to Grace Avenue park, otherwise known as Firefighters Park. You can visit the park every Sunday until November 20 to purchase goods from farm fresh produce, mouth-watering artisan food, and craft stands. Listed below are highlights of the stands I believe to be the most worthwhile to visit. You can find the full list of vendors on instagram @deeprootsfarmers marketplace or on this website https://www.gnparks.org/704/Farmers-Market.
Deep Roots Farmers Market is also featured in Glen Cove on Saturdays. Since Great Neck does not have a supermarket, this Farmers Market provides greater accessibility to fresh produce.
Produce Stands:
Elite Microgreens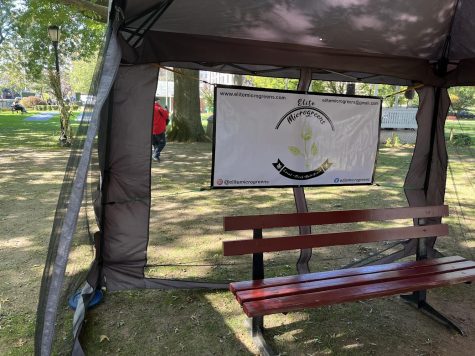 Located in Westchester, this stand provides organic micro greens grown 365 days a year. Elite Microgreens produces radish microgreens, microgreens salad mix, micro broccoli, and cabbage microgreens for $6.00 each. You can find this stand located across other farmer's markets in the New York area.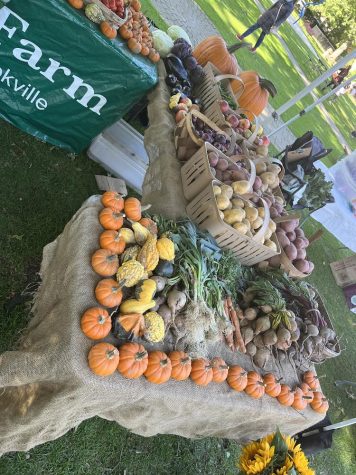 Here, this farm stand Dobler Farms features the produce typically found in fall, such as pumpkins, squash, gourds, potatoes, leeks, and other root vegetables. These vegetables can be purchased at a range of prices, from $2.50 for the mini-pumpkins, $8.00 for the large pumpkins, and $4.00 for the squash. * These prices are subject to change. *
Beary Delicious Bakery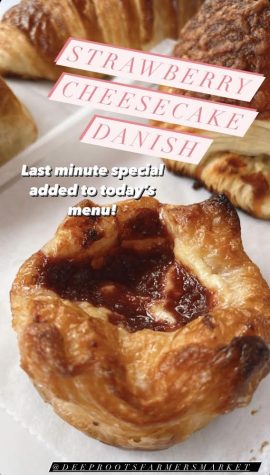 Located inside Oh My Goodness kids wellness center in Port Washington and Garden City, Beary Delicious Bakery was hoping to spread its baked goods further across Long Island. Weekly highlights at this stand include a personal loaf of chocolate chip banana bread, which was incredibly moist and included cane sugar at the top for an extra note of sweetness. A decadent strawberry cheesecake danish was also featured, which was perfectly balanced with an indulgent cream cheese filling with a sweet fresh strawberry purée on top. The dense filling was a nice contrast to the flaky Danish pastry. Other items featured include an everything bagel scone and pumpkin spiced latte coffee cake. The price of these pastries varied from $2.50 a pastry to $6.00 a pastry.
Porchside Bakery
This bakery is run by Eleanore Slobodny out of her home in Huntington. Her stand features some unique takes on classic pastries.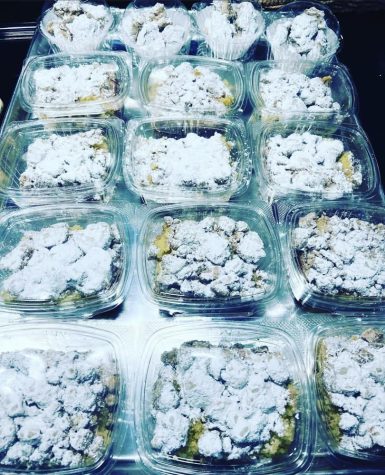 Her Hungarian coffee cake includes coffee cake crumbs on the outside, as well as the inside to allow the cinnamon sugar mixture to be directly infused into the coffee cake, creating an unforgettable first bite with the soft texture of the buttery cake and the sugary sweet cinnamon sugar mixture of the coffee cake crumbs.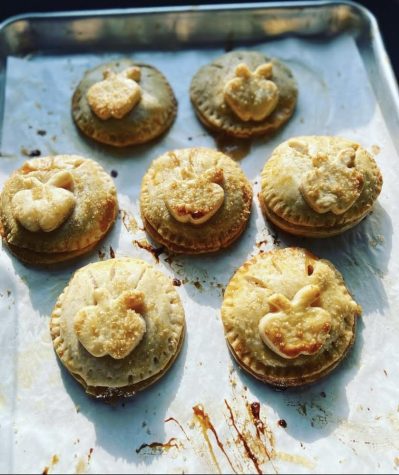 The stand also features a miniature version of an apple pie she named: Apple Hand Pies. The caramel sauce on the side provides extra sweetness to the fresh apple filling in the flaky savory crust.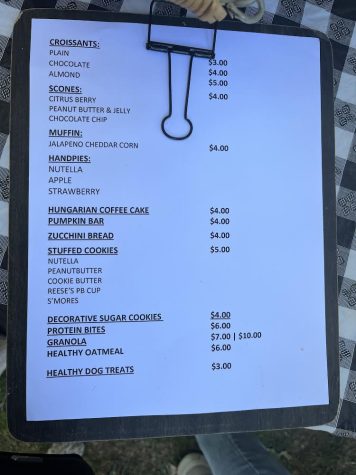 Listed above are the price points of other baked goods sold at Porchside Bakery.
Total Sicily
Run by a warm Italian family, Total Sicily provides only the finest Italian ingredients. The mozzarella that is layered on all their sandwiches is handmade fresh daily. Their sandwich is built on Italian bread with marinated tomatoes, eggplant tapenade, homemade mozzarella, arugula, sun dried tomatoes, and prosciutto. The prosciutto is sliced thin enough so you are able to taste all the handpicked ingredients. No one ingredient is overpowering and they all complement each other to create a cohesive sandwich, pairing perfectly with their sundried tomato and mozzarella ball salad topped with fresh olive oil from Italy. The sandwich starts at $15 and can be modified to include no meat and only the marinated tomatoes, eggplant tapenade, homemade mozzarella, arugula, and sun dried tomatoes.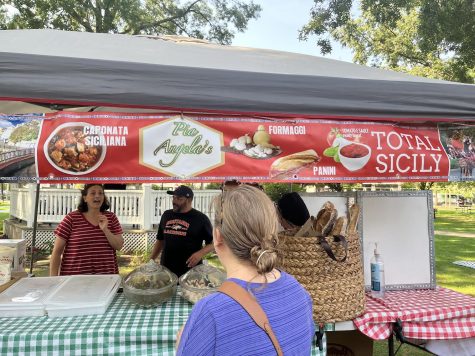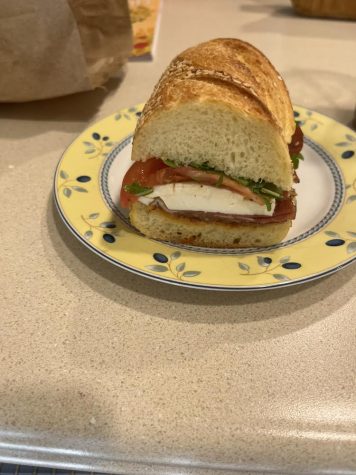 Johnny's Bread
Operated out of Johnny's Long Island house, Johnny's Bread's family business sells full loaves of sourdough bread, perfect to go with any soup or stew you might be having as the weather becomes colder. They also have excellent rye bread, perfect for any sandwich. If you are struggling to choose between different loaves of bread, try one of their free samples. The sourdough bread is $10.00 a loaf and the rye bread is $15 a loaf.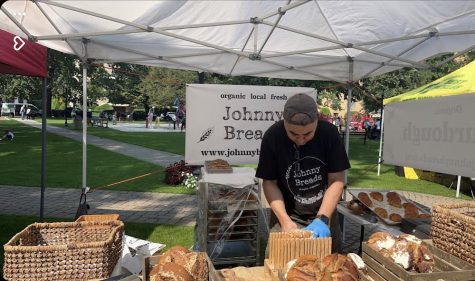 Johnny in action! Pictured here Johnny is slicing a loaf of his famous sourdough bread that is getting ready to be sold.
Goodale Farms
Goodale Farms, located on the east end of Long Island in Riverdale, is a dairy farm that creates products using fresh cow and goat milk from animals they raise on their farm. In addition to traditional milk, they have yogurt that come in flavors such as vanilla and black cherry that are perfect for breakfast or a midday snack. If their dairy products are not enough to make this stand worth your time, maybe a live goat will. If you are lucky, Goodale Farms might bring one of their goats to the farmers market. The yogurt is $6.00 a pint.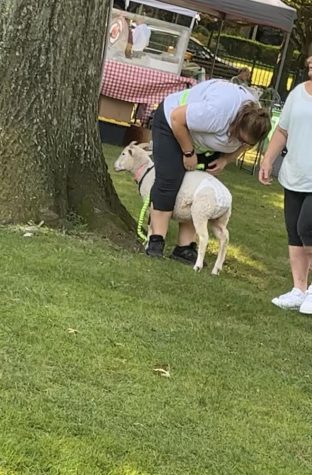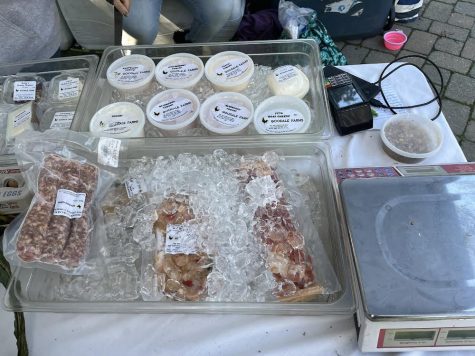 I hope this inspires you to head out to the farmer's market one of these Sunday's. Hurry, the farmers market is only around for a couple more weeks!