Hot Lunch Improv: Now Serving More Improv, More Laughs, and One More Show!
John Adams and Adam Sandler go on a dinner date on a deserted island, a Mother and her monster-like child are stuck in a Costco with no way out, Clifford the Red Dog and his cousin Homer Simpson need to find a cure to a rare disease that has cursed their dear friends Barack Obama and Donald Trump. All three of these situations may seem illogical and completely insane; however, these are scenarios that Great Neck South's Hot Lunch Improv Troupe would perform in a typical scene. 
"I still don't get it, what even is improv?" the entirety of the South High community asks. "So you guys basically just play pretend and make up random things?" Well…something like that.
Improv is a blend of acting and comedy with a limited set of rules: saying "no" is forbidden; you must establish a base reality with your scene partner (characterization and setting), and any form of script or pre-planning is strictly prohibited. Sounds a lot like a childhood game that elicits feelings of nostalgia and taking part in an innocent game of family on the Lakeville School playground, sure. However, Improv has a lot to offer, including valuable social skills and a fun way to get involved in our community.
South High's Theatre South program is home to its very own improv troupe, The Hot Lunch Improv Troupe. The origin of their name remains a mystery, and no, the founders of Hot Lunch Improv did not have an abnormal fixation for midday meals. Although students are unaware of the troupe's existence, the troupe has a long history at South High, having been around since the 1980s.
Each September, the troupe's senior captains hold auditions to form a new group of improvers for their troupe. The troupe then participates in weekly troupe meetings to prepare for their two annual improv shows. The ten-person troupe is student-run, meeting (almost) every Sunday from 3 to 5 at different troupe members' homes to rehearse for their performances in December and May. 
This year's captains, seniors Josh Davis and Amanda Roth, agree that the value of improv is often overlooked.  
"Improv combines every skill set I know. You need to be quick on your feet and have good instincts. Adaptability and focus are key. You also need to be able to further the plot of your scenes by being imaginative and creative," said Roth. "Our troupe is so hard working. After every scene, we all offer constructive criticism and talk through the scene in order to break it down and build up our improv skills."
"What's so amazing about improv is that it teaches you how not to be self-conscious. If you're self-conscious, your scene won't be funny, and you'll just be getting in your own way. You learn pretty quickly to relax and enjoy it. It's fun for you, and even more fun for the audience," Davis explains.
In their bi-annual performances, the troupe showcases games known as Ding, Style, The Dating Game, Halves, Four to One, and Film Noir. Each game is specific and puts a special twist on basic improvisation (otherwise known as a two-person scene that ignites from a word of inspiration). For example, Style involves two improvers who must quickly change the style of their scene at the will of another improver. In a game of Style, a scene involving two Kardashians on a spaceship may become a western-style scene at the snap of a finger. In Halves, a two minute scene must be repeated within the span of one minute, 30 seconds, 15 seconds, 10 seconds, 5 seconds, 2 seconds, and then 1 second.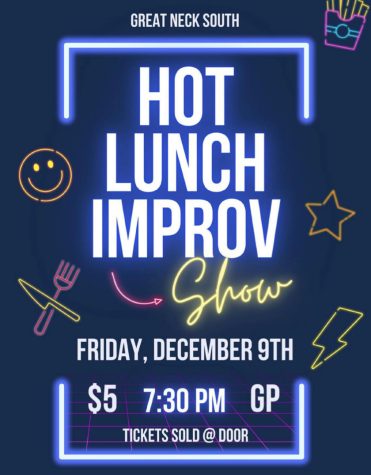 Why come to the improv show? Not only is the improv show an amazing experience for the performers, it's an incredibly entertaining experience for the audience. Audience members can suggest words of inspiration, character ideas, and relationship types that initiate the scenes the improvers perform. The improv show is extremely intimate, and the improvers never fail to build pronounced trust with their audience during every performance.
Not only is improv a blank canvas for creative liberty and artistic expression, but it's also a safe space to build bonds with other students. "The troupe is family. We become so close and share so many fun memories and traditions that span generations of troupes. The troupe is enveloped in a code of trust. Improv is vulnerable, and sharing laughs and weird scenes with others makes a bond that surpasses cliques, grades, and seniority," explained Roth. The improv troupe formed tons of friendships that have lasted beyond high school years. 
The troupe is incredibly proud of their work and accomplishments. They invite everyone to come to support them at their show on Friday, December 9th at 7:30 PM in the GP room. Entry is 5 dollars, but Roth and Davis guarantee that free laughs will be provided. However, they warn you that you may fall in love with their sophistication and talent, leading you to join their huge fanbase. "It's a pretty common occurrence," explained Roth.