Shooting for Success through Self-Awareness
Each January, we reassure ourselves that we will become better people who manage their time and are on top of our lives. Unfortunately, by the end of the year, we almost always wonder what we spent all of our time doing, and we regret not trying harder to be more productive. 
This year, you can improve your productivity by trying something new! I have reviewed the five following productivity and reflection apps. I hope that you find at least one of them helpful to you and your lifestyle. Happy planning!
Daily Bean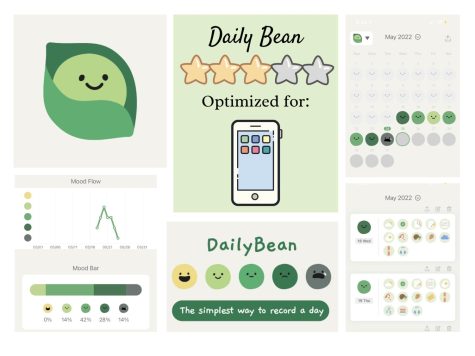 Optimized for: iPhone
Beginner friendly: Yes
Stars: 3
The Daily Bean allows you to track many aspects of your daily life, including the weather, your meals, your mood, your sleep schedule, and more. It even enables you to include three photos and one note per day. It's very easy to set up and start using because it walks you through how to document each day. The icons are also all very adorable, which makes the app more appealing to people who typically don't want to track parts of their lives.
I especially love looking at the analytics that I've gotten since I've started using it.  The app records which activities are frequently recorded with each mood, keeps track of your most frequently used icons, and shows you how your mood changes over time (through graphs).
It is most compatible with phones and is not compatible with laptops. Although it can be downloaded on an iPad, it provides you with an inconvenient black margin that spoils the app's performance and aesthetic. It also isn't available on your school iPad.
Overall, this app is made for people who want to track many parts of their life through a very streamlined and straightforward process.
Habit Tracker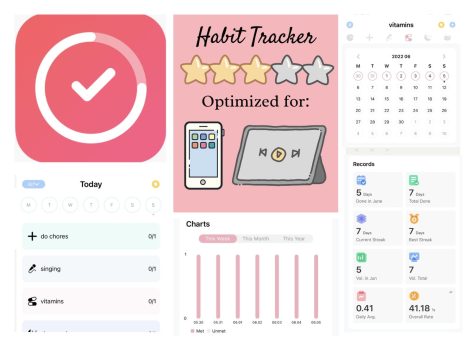 Optimized for: iPhone and iPad
Beginner friendly: Yes
Stars: 3 
This app's main and only purpose is to keep track of your habits. It's very simple to set up and provides very useful statistics regarding the completion of your habits. It records how many perfect days you've had (meaning you completed all of your habits), what your best habit streak is, how many habits you've completed, and your daily average.
The habits are also very customizable: you can choose a color, an icon, and a reminder time (when the app will remind you to complete that habit). You can also add a daily memo for a particular habit if you complete it that day. 
This app is optimized for phones and iPads; however, it won't work with your laptop or your school iPad.
To some, this app may seem a little too simplistic when it comes to making an organization system for their lives. However, this app is perfect for people who only want to focus on building new habits.
Owaves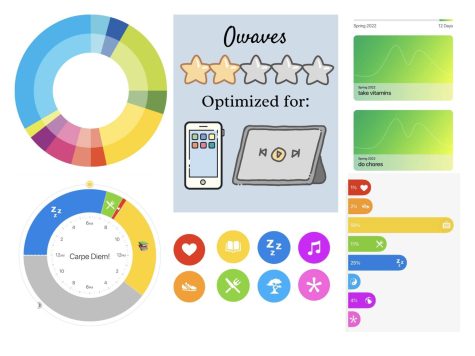 Optimized for: iPhones
Beginner friendly: No
Stars- 2
Owaves is made to help its users plan out and time block each part of their day. At first, this app can be very difficult to work with. The icons are a little confusing and the daily circle that is provided can be confusing.
You have 8 options to choose from when scheduling parts of  your day, and some may think they need more than that. When scheduling your day, you drag each icon over to the daily circle and you adjust the time frame accordingly. Once you're done planning out your day, you can zoom out and see a whole ring of colorful events that are waiting to be tackled. 
Aside from its low usability, it is helpful when it comes to seeing your whole day. Since the daily circle displays all 24 hours of your day, it allows you to truly get a sense of how much time you need to devote to each task. After using Owaves, I started to become more mindful of how I've been dividing my time. 
Owaves is optimized for iPads, which allow you to see the whole daily circle at all times. The phone version does have more functions than the iPad version: it has a page for your goals and allows you to change the icons. However, you can't see your entire scheduling circle while planning your day with the phone version, which makes it hard to navigate.
This app is suitable for people who like to plan out every part of their day. It gives its users the opportunity to get a better grasp of how they're spending their time each day.
Reflectly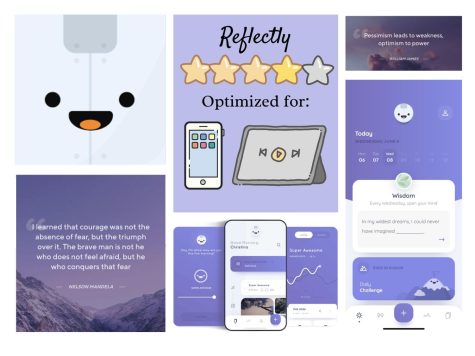 Optimized for: iPhone and iPad
Beginner friendly: Yes
Stars: 4
Reflectly holds true to its name by allowing its users to reflect upon various aspects of their life, multiple times a day. For instance, it allows its users to do a mood check-in as many times as they want, it has a page where users can scroll through inspirational quotes, it has a daily reflection prompt, and it has a daily challenge. For example, the daily challenge of May 24th was, "Today I will tell a member of my family how much they mean to me." These daily challenges push Reflectly's users to try something new and beneficial to their lives.
Reflectly also lets you create an account, which allows you to use Reflectly on your (personal) iPad and your iPhone. Luckily, this account means that your phone and iPad can be synced when it comes to your digital journal.
Reflectly can also be helpful because it allows you to take a step back from your life and reflect on who you are as a person. Moreover, it has a feature that gives you notifications and encourages you to stay positive with a quote (these notifications can be altered to appear at certain times of the day). This is an app that pushes its users to be better, more thoughtful people.
Notion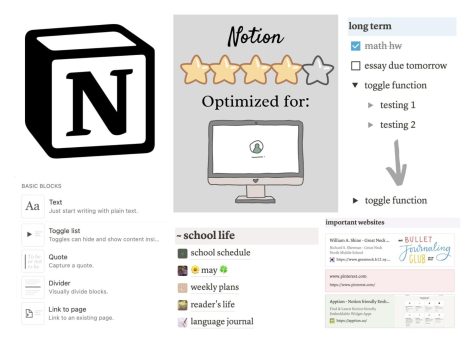 Optimized for: Laptop/Desktop
Beginner friendly: No
Stars: 4
Notion is an app that allows users to do whatever they want. It functions like a planning website or a digital planner and is fully customizable to each person. It has many features, which include calendars, databases/tables, pictures/videos, toggle lists (lists that can be temporarily hidden under a heading), and many more. 
The main downside to Notion is that it can be very intimidating to a person who has never used it before. Thus, I would suggest that you go on YouTube and watch a couple of videos on how other people set up their Notion. My favorite Notion tutorials are from Twirlingpages (Alexandra) and Adelala. Alternatively, you can block out one afternoon and spend that day experimenting with what works for your Notion.
Notion is optimized for laptops and desktops; however, once you're done setting up your Notion, using it on your phone or school iPad can be helpful as well. Since Notion requires you to create a (free) account, you can sync your Notion with your laptop, iPad, and phone all at once.