Swept Off Our Feet: From Custodian to CEO
On the lacquered linoleum, the rumbling of rubber wheels under a garbage bin are followed by a sweeping broom and heavy boots trailing shortly behind. Empty classrooms line each wall as the after-school hallways become barren with stragglers attending clubs or finishing projects. Every now and then, the jingling of metal keys rattles a new door open before it clicks shut.
"Goodnight, DJ Richie!" a teacher bundled in a winter coat calls as they hurry towards the exit.
Oral "DJ Richie" Richards, a custodian at South High, waves in greeting before unlocking the next room, making sure to wipe the doorknob after. His supplies—three spray bottles cushioned by mismatching washcloths—are hooked on the rim of the rolling garbage bin and conveniently within reach. Although the classroom reflects a hectic school day, it serves no challenge for the twenty years of experience DJ Richie holds under his belt.
"Our primary focus is to create a safe and healthy environment," he says as the whiteboard is misted with sanitizer. "It takes a lot of work and commitment. Consistency."
When the desks are given the same treatment, DJ Richie lives up to his name by drumming his hands onto the hard surface. The rhythm comes alive as soulful bluesy guitars alongside chorus choirs echo in the back of his nodding head, and DJ Richie cannot help but sing aloud in his smooth Jamaican accent.
The song was last heard on Timeless Gospel Radio, a specialized music station that broadcasts across sixteen countries. Based in New York City and spanning across six social media pages under the same name, it features vocal talent from diverse individuals joined through a common faith. The Timeless family cherishes DJ Richie, who not only serves as the DJ, but also as the CEO.
"I fascinate people all the time," DJ Richie says, smiling. "Here, I come and sweep. But on the show, as soon as you get into details, you realize you're sitting with the CEO."
On the station, his clients are able to enter the gospel industry through buying a timeslot. DJ Richie then interviews and mentors them before putting them on air. Once live, Timeless Gospel Radio explodes with various voices singing, clapping, and preaching about peace, love, and hope. Guest-stars include pastors as well as kids who all share laughter through the nine different types of microphones. DJ Richie also does studio recordings for albums with the intention of providing opportunities for aspiring musicians.
"When people come to me, they have to dress up in their suits," he laughs. "But I'm ordinary here."
Prior to founding his radio station, DJ Richie was a police officer in Jamaica who immigrated to the United States. Seeing transferable skills, he became a security guard, first starting at South High's front desk and later shifting into custodial work. All the while, he performed music whenever possible whether it was for clubs, venues, weddings, or in his own car. 
"I used to play music in my car and record myself using my phone. People would ask, 'what station is that?' and I'd tell them it's not a radio station, it's just me sitting in my car." DJ Richie laughs at the memory. "They thought it sounded good."
He began DJ-ing at the age of fourteen, which was what allowed him to pay for his education. Despite facing many challenges in life, music had always been the hum in the background that guided him forward.
"I was born poor, my mom had me when she was thirteen years old, so I had to fight. Then my mom died, my father died, I lost my house. I became an alcoholic. When you're in those situations, your mentality suffers. Music is what helped me.
"Ever since I changed my mindset, everything started coming through. I've gone into the church and I've started to improve. I believe that God put me here for a reason. I became a Christian, so I stick to gospel music."
"Gospel," he says, "is a message that gladdens the heart. I was sent here to do that. I'm a DJ by calling."
Never being able to escape the melody that soundtracked his life, DJ Richie continues, "I originally thought that this was it, being a custodian was me, but when I started doing music more, I learned that everyone has a job and a gift."
Stressing a distinction between profession and passion, he says, "your work is what pays the bills while your gift is what is inside you. When I found that out, that's what triggered me. Music is who I am. Music is my gift.
"Your gift is anything that you love and do with ease. You can't run away from it. When I'm doing my gift, I'm not working. When I'm pushing the broom, then I'm working."
DJ Richie divides the day in three segments in order to concentrate eight hours for the night shift and the other eight hours for Timeless Gospel Radio. He compares his situation to a doctor working in retail in order to pay for medical school: "my job is a gateway to music; a way to pay for my gift."
The dedication is evident through the impact DJ Richie has on others through his show. "People come to me because I am operating my gift," he says. "The passion makes it easy."
Even at South High, his love for music shines through. "Because I put so much effort into it, people like it.
"You can't force connection, so when it happens naturally, it's amazing. My two favorite teachers are excited. That's what got me too—whenever Motch sees me, he says 'DJ!' That motivated me because he saw the passion."
Motch, the Business/Technology department head, says, "I've been calling him 'DJ' since day one. He is definitely an inspiration. His main goal is to help others and make the world a better place. DJ recognizes that all the little things make up the big things, not the other way around. I think the fact that he found an avenue with the radio station is a great success because he's on the road to do that. "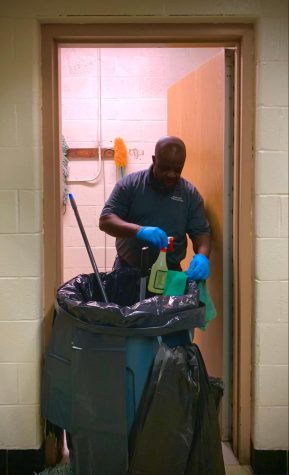 Like Motch, Ms. Spinelli, the physics and science research teacher, is also a longtime supporter. 
"I really admire him," Ms. Spinelli says. "I'm really in awe of his humility because many people in this building have no idea of what he has built. He doesn't brag about it even though he established a show where he invites people from all over to come and share their story. Giving people that platform is very special."
"Not a lot of people here know about it," DJ Richie adds. "When I go to the studio and you hear me on the radio, you don't know it's me. It shows humility. If you don't practice humility, then you get arrogant and might make mistakes."
When his show was revealed to a sophomore at South High, they said, "I personally haven't talked to the custodians that much, but it's easy to tell that they're reliable and willing to help. I always assume that the staff here lead pretty standard lives outside of work, so I was surprised to hear about DJ Richie's show. It's amazing to learn that someone in our school has made a name for himself as a radio show host."
Finishing the last desk and straightening his supplies, DJ Richie pushes the garbage bin out the classroom door, ready for the next task. By now it's ten o'clock and nearing the end of the night shift, but a smile continues to remain on his face. 
Although he enjoyed his long career and friendships at South High, DJ Richie looks forward to his upcoming transferral to John F. Kennedy Elementary in hopes to gain a new change of pace while still remaining close to the Great Neck community.
"I'm living my dream in the presence of people who don't even know about it. I'm excited because everything is all coming together from what I did. I do this because you too are going to be excited and say, 'that's DJ Richie! That's the guy who sings in the hallways!'"