The Fatal Impact of Ye
Our society breeds influencers. We, the people, unconsciously assemble a plethora of platforms and soapboxes, which allow for select individuals to preach their worldviews, political ideals, and controversial opinions. Our impressionable minds devour the words of the influencers we admire. We crave their lifestyles and desire to become their clones.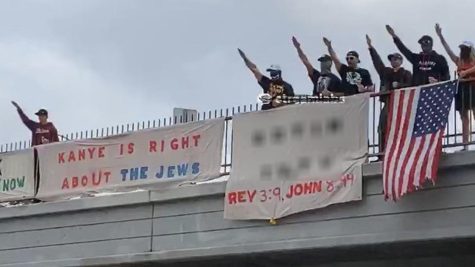 Once our influencers gain enough supporters, they generate a surplus of power. Power begins to ooze out of their eyes, drip from their fingertips, down the sides of their platforms, and into the hands of the supporters who praise them. This process creates a body of micro-influencers—a strong fan base—that often combine their small drops of power to influence the world around them. 
Society often underestimates the power of a fan base, that is until they crash Ticketmaster, sway political elections, promote widespread hate, and then make headlines. By the time the headlines are published, the damage is often well overdone. 
Ye, formally known as Kanye West, is arguably the most influential rapper of our generation, with one of the strongest fan bases of the twenty-first century. His career took off in the early 2000s when he was featured on rapper Jay-Z's The Blueprint. His debut album, The College Dropout, reached 3x platinum and sold over 400,000 units on its first day. He has since released a multitude of record-breaking albums, married American socialite Kim Kardashian, and released his own fashion line. 
Ye has also run for President of the United States, divorced Kim Kardashian, publically humiliated global pop star Taylor Swift when she was 19 years old, and ended enormously lucrative partnerships—including Adidas, Balenciaga, Gap, and Def Jam—as a result of a series of antisemitic statements, forcing him to say goodbye to his reign as a billionaire. He has worn a 'White Lives Matter' t-shirt at fashion week, blamed George Floyd for his own death, praised Adolf Hitler and the Nazi Party on multiple occasions, asked the Jewish people to forgive Adolf Hitler, and publically tweeted that he was "going deathcon 3 on Jewish people"
Thus the most acclaimed artist of our generation has become our most prominent bigot. 
Ye stepped onto the platform that granted him his title and power. As a result, billions of eyes have begun watching him. His fanbase has not only grown over the past two decades, it has strengthened. 
As a country, we have watched other celebrities (such as Harvey Weinstein and R. Kelly) meet their downfalls due to inappropriate remarks, politically incorrect statements, and sexual assault. Ye's controversial actions should have already unlocked the door to career suicide, but his power has long been overflowing out of his hands and into the minds of his overwhelmingly large fanbase. They are the force that holds Ye's naturally disintegrating platform together. Despite his disastrous remarks, Ye is not about to disappear. In fact, his fans won't let it happen. How much longer will it take until they pass their threshold for disgust? 
The Jewish American population accounts for a mere 2.4 percent of the total adult population of the United States but experiences 54.9 percent of all religiously-motivated hate crimes. The rise of antisemitism is no myth or lie, and daunting headlines continuously threaten the Jewish community as a whole. As stereotypes continue to spread, violence does too. Synagogues—holy buildings meant for worship, community, sanctuary, and security—have witnessed bloodshed and murder. Ye has become a prime cause of rising antisemitism with his neo-Nazi lyrics and harsh public statements. He has influenced a strong resurgence of the Proud Boys and has stated his plan to make all Jews work for Christians if he were ever to become president. This sudden rise of hate instigated by Ye's influence parallels the rise of antisemitism in the 20th century instigated by Adolf Hitler. The idea of a twenty-first-century Holocaust seems terrifying yet improbable, but even history has a history of repeating itself.
As a Jewish teenager, I have felt the effects of Ye's choices. I have been told by dear friends that they value Ye's album, Graduation, over my own safety. I have been warned that my people will cease to exist. It is exhausting for the Jewish community to refute antisemitism and to reteach the evil doings of Nazi Germany: the inhumane concentration camps that dotted Europe and threatened all outcasts alike, the six million Jews deceased from the Holocaust.
With that, I ask all Ye fans the same question: How can you defend a man who threatens every marginalized community? A man who has claimed the institution of slavery a choice, a man who has befriended so many sexual assaulters in the industry, a man who threatens the lives of his children and who falsely accuses the Jewish media of operating against him? 
Prejudice and injustice are what Ye speaks in favor of when he is standing tall on his platform. Not the soulful rap music and trendy fashion that he once represented. I believe he never solely represented his art at all.
Combatting Ye's widespread influence on the minds of his impressionable fanbase has proven to be a strenuous task. On Holocaust Remembrance Day, January 27th, seven Jews were murdered in an Anti-Semitic attack. Anti-Semitism will not die out overnight, but it can be fought back in increments. As a generation, we must stop supporting hateful influencers such as Ye. When we stop streaming his music, purchasing his products, and following his social media, we actively battle widespread hate. The only way to prevent a cycle of hate is through knowledge and respect for those around us.