Nohara Ramen: Where the Mood Meets the Food
In the winter, there's nothing better than a steaming hot bowl of soup after a long day. Great Neck's new restaurant Nohara Ramen gives residents this very opportunity, serving ramen and beyond. Nohara Ramen is located at 5 South Middle Neck Road, Great Neck Plaza. Since opening in September 2022, the restaurant has gained some major popularity; one Yelp review calls Nohara Ramen comparable to "NYC ramen" and "at a cheaper price too." After all of the hype, I decided to put Great Neck's hottest Japanese restaurant to the test. 
I attended Nohara Ramen on a rainy, bleak Monday afternoon. Upon entering, however, my weather-induced gloom shifted quickly to curiosity and awe. The walls of the establishment are plastered with posters featuring characters from various comicbooks, television shows, and anime. It's as if the door of Nohara Ramen serves as a direct portal into an eighties comic book store in Japan—with some tables and chairs too. A waitress politely greeted me and said to sit anywhere I wanted. I chose the seat closest to the window as it provided the best view of the entire restaurant. While perusing the menu, I was surprised to see the variety that Nohara Ramen offers. Not only do they have several different types of ramen, but they also serve traditional Japanese appetizers and drinks, salads, udon, and vegetarian dishes too. After careful consideration, I decided on the Nohara Fries as an appetizer and the miso ramen as an entree; I also ordered a pot of genmaicha, a Japanese beverage that consists of green tea and roasted popped brown rice. After ordering, I once again became entranced by the walls of the restaurant; each time my eyes diverted and refocused, a new figure that I had not previously seen suddenly appeared.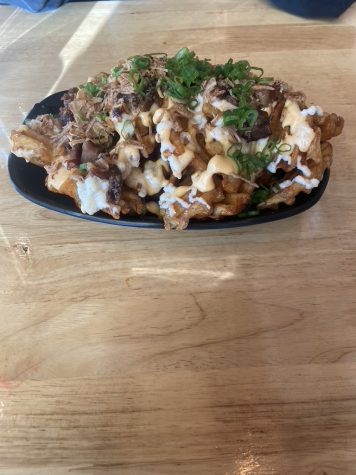 The genmaicha arrived first. It came in an elegant, flower-covered teapot. Grabbing the pot by its makeshift bamboo handle, I poured myself a cup. Steam instantly arose from both the spout of the pot and my cup; fragrant aromas that I had never before experienced filled my nostrils. Grasping the cup, I felt the warmth of the genmaicha on my palms and fingertips. I brought it to my mouth and took a sip. New sensations flooded my taste buds and my mind. The tea was perfectly bitter, with a slight trace of sweetness in its aftertaste. By the taste of their tea alone, I knew that the food would leave me equally, if not more impressed. 
The Nohara fries were then delivered. This dish includes french fries topped with minced garlic, spicy mayo, onions, scallions, and chashu (Japanese pork belly). I dug in within seconds. The first bite was flavor packed, with the crispy french fry tying it all together. The combination of the spicy mayo and the chashu in particular is incredible; the spiciness of the spicy mayo compliments the subtle sweetness of the pork belly perfectly. As a side note, for a Japanese restaurant, Nohara Ramen serves some pretty good french fries.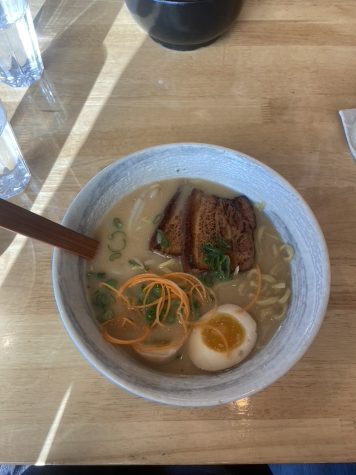 Just as I was about halfway through the Nohara fries, a waitress emerged from the kitchen holding a piping-hot bowl of ramen. She set the bowl down in front of me, and I took a swig of the then-lukewarm genmaicha to cleanse my palate. I unwrapped a pair of chopsticks and proceeded to feast. This dish consists of a miso base and a pork bone broth, along with boiled eggs, bean sprouts, corn carrots, and scallions. The miso base of the soup mixed beautifully with the pork bone broth, creating an unmatched "earthy" flavor. Each bite I took was filled with a different combination of foods; the boiled eggs and corn carrots melted softly in my mouth, while the bean sprouts and scallions provided a satisfying crunch. I slurped down the ramen and with each bite and sip, my hunger slowly, yet surely, depleted. I was satisfied, with leftover Miso Ramen and Nohara Fries still on the table. 
I asked for my leftovers to be wrapped and for a check. I sat there, fuller than I had ever been, sipping on the remaining genmaicha while admiring the walls one last time. After paying the bill, I left the restaurant engorged, as did my pockets, with Nohara Ramen offering fair prices for all of their dishes. Nohara Ramen offers an unbeatable ambiance along with authentic Japanese cuisine. Anyone looking for a fun, tasty, and affordable place to eat should look no further than Nohara Ramen!