Ms. Tobin: An Expansive History of Dance
Excited shouting emanates in tandem with jaunty music and sound effects from Maura Tobin's classroom as her students engross themselves in an intense game of Kahoot!—the penultimate assessment of their knowledge before they'd have to take a test the following day. In the background someone sneezes, to which she almost reflexively responds: "Dei tibi benedicant!" or, in English: "May the gods bless you!"
At first glance, Ms. Tobin is quite the inconspicuous character—as a gentle and soft-spoken teacher of the classics (namely Latin), she hasn't garnered a great amount of attention in the microcosm of South High. 
However, there is much more to Ms. Tobin than meets the eye—an avid lover of the arts, much of her life is centered around just that. One activity has a particularly strong presence: dance. "Dancing is a very fundamental part of my life," she said. "You learn the discipline, but then you can also get really creative with it. You can choreograph your own dances and put pieces together in a new way." 
Ms. Tobin often takes dance classes in the city, where she has a wide range of activities at her disposal. According to her, living in an urban environment is crucial for a multitude of cultural experiences, even besides her dance classes. "I really think I need to live in the city," she said. "I actually just went to the Met last weekend. It's one of the best things about New York."
With respect to dance, she is more than willing to branch out. In recent years, she has tried a variety of styles that may seem "unconventional" to the average person. From Irish step dancing to Indian workout dance classes, she has seemingly tried every genre of dance. Overall, she gravitates towards high-intensity dances that force her to exert her energy. 
Her zeal for dancing doesn't end there; in fact, she has been an avid dancer for most of her life, dabbling in all sorts of different styles. "From ages five to 17, I did ballet, and I took jazz [from] about 10 to 14," she said. 
This wasn't all—throughout her high school years, she was in a troupe for modern dance, and later on joined a hip-hop dance crew in college.
Since then, Ms. Tobin has found another favorite interest: West African dance, stemming from a variety of cultures and regions including Guinea, Senegal, the Ivory Coast, and Mali. This newfound interest was a result of an unfortunate incident: a few months after she started breakdancing, she broke her arm, preventing her from dancing for a period of time. "While I was out, injured, I saw a West African dance performance and realized I wanted to take that," she said. 
The rest was history—ever since her arm injury, she has continued exploring the full diversity of West African dance, not just by performing them but also by educating herself on the background of some of the different types. "We talk about what they are traditionally, what they mean; some are fishing dances, some are harvest dances," she said, in reference to her classes. 
Even throughout several debilitating injuries, Ms. Tobin's love for dance has persisted. After breaking her arm, she sprained her MCL and injured her patella, and later on got rotator cuff tendonitis. More recently, she has developed a bulging disc in her spine. Despite this, she hasn't stopped dancing; while she no longer has the same range of motion as she once had, she still continues to enjoy dance just as she always has. 
All the same, Ms. Tobin believes in a balance between her life as a dancer and as a teacher. "It's hard to envision myself as a full time dancer, because helping others and learning are such big parts of my life. And in school, I get both of those."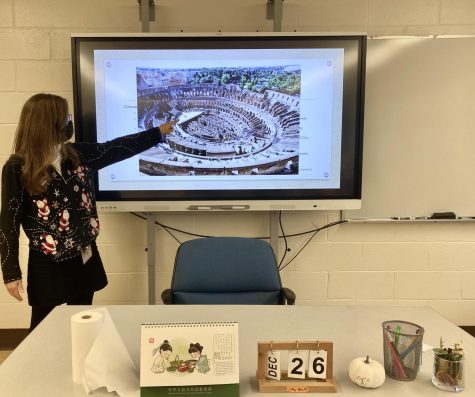 Sra. Tavares, a Spanish teacher and coworker of Ms. Tobin, described her as someone who's "very dedicated to her work, dedicated to her students," who "comes in ready every day to give it her best." 
"I like when students grow and have that light bulb moment when they finally understand something," Ms. Tobin explained. 
She does indeed show great enthusiasm as she teaches—one can expect trivia about ancient Roman culture and review games to be the norm in her classes. On Mondays, she hosts her weekly "Takeoff-Touchdown" activity, where her students, and she herself, can stand and share the highlights of their weekend.
"Take off if you did something artistic this weekend!" She herself stood and shared her experience with her latest dance class—and how sore she felt afterwards. 
"We all have our own special hobbies, and it's cool to hear about hers," said one student. "She talks a lot about dance. She's a creative person."
Between managing her injuries and balancing work, Ms. Tobin's passion for dance has faced many obstacles. Nonetheless, she persists: "I don't ever plan to stop dancing, no matter how many more physical therapists I'll see."