Honoring Our 2021 Retirees: Mrs. Wei Li Yang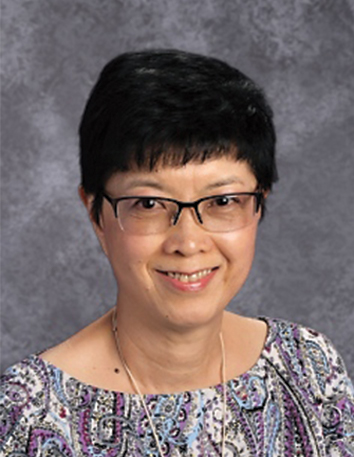 Most teachers go easy on freshmen. Most teachers won't call you out for not paying attention. Most teachers can't make you cry and laugh in the same class. However, Mrs. Wei Li Yang isn't like most teachers. Teaching about both Chinese and life, Mrs. Yang has provided many valuable lessons for her students. After 18 years, Mrs. Yang has decided to retire from her position as a Chinese teacher. 
After college, Mrs. Yang immigrated to the United States and started a business with her husband. When her son started elementary school, she also sent him to Chinese heritage school on the weekend. Because the heritage school needed another teacher, she decided to help teach Chinese there. As she continued to work at the heritage school, she realized she had a passion for teaching, so she went back to school for a masters degree in Education. She began teaching in New York City as an elementary ESL teacher. After working for two years in the New York City schools, Mrs. Yang was offered a position at South High as a Chinese teacher. 
Throughout her 16 years at South, Mrs. Yang has made a lasting impact on many students. Most students enter her class anxiously because they have heard of the strict regulations she upholds. However, as time progresses, Mrs. Yang shows the class how much she truly cares about each and every student. Junior Charley Li says, "Mrs. Yang is definitely one of the most caring teachers, and although she might not show it in traditional ways, she definitely cares about your grades and who you are as a person." In class, she would crack jokes to keep the students entertained while maintaining focus throughout the lesson. She would try to ensure that students retained information by calling out students when they weren't paying attention and refocusing the class when they were too rowdy. Most students would receive a little embarrassment from this; nonetheless, her tactics ultimately proved beneficial to students when they took her tests. 
Mrs. Yang not only taught the basic words and grammatical structures of the Chinese language; she would also often stop the class to give a life lesson related to the class material. She would tell stories about her own life and teach her students her philosophy on life. 
Mrs. Yang was also the advisor for the Asian Games Club, where she could be found at her desk working while students played mahjong and other Asian games. Often, the club members would convince Mrs. Yang to take a break from grading papers and play with them. "She would always win at games, but I felt grateful that she played with us because most teachers who supervise don't partake in the club, but she was there to enjoy our company," says junior Jessica Lin.
As Mrs. Yang reflects on her career, she notes that teaching wasn't easy. There were many obstacles that constantly stood in the way—especially during remote learning. For her, teaching required long hours. Mrs Yang explains, "teaching is like an endless job; we aren't just teaching in class." On weekdays, Mrs. Yang spent most of her free time grading papers and updating new material, and on weekends, she would stay home to prepare for the week's lessons. There weren't many textbooks that taught the full curriculum of the Chinese 10 Regents, so one year, Mrs. Yang had to create an entire textbook for her class just to teach the 10R material. 
Although teaching requires substantial hard work and perseverance, Mrs. Yang always reminds herself that she is rewarded by her students. Each year, Mrs. Yang is touched by the students who come back from college to visit her and thank her for everything she has done. The appreciation of students truly makes teaching a satisfying career for her. 
As for her next chapter, Mrs. Yang has thought about traveling to Taiwan to visit her friends and family. After that, she isn't completely sure, but she knows that wherever she journeys, it will be filled with fun spirits and joy. 
Mrs. Yang leaves her students with this parting message: "I wish you will keep up with your good hard work, and I wish you good luck. I'll miss you all."