Meet the Captains
The fall 2022 sports season is coming to a close, and along with it, the captainship of many Seniors. Most team captains take the responsibility seriously and give the role all of their effort. A few captains from the fall season have shared what being captain has meant to them, just in time for the winter season's captains to take over.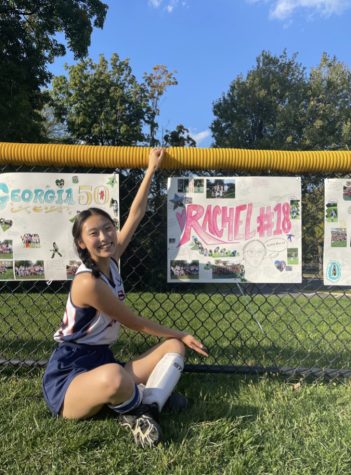 Senior Rachel Woo: Being the Varsity Field Hockey Captain this season has been a very humbling and memorable experience. To me, Captain is much more than just a label. It means cultivating a supportive environment for both new and returning players. Since field hockey doesn't have a middle school or JV team, new members have a large learning curve that they must quickly adapt to. But between our post game outings and funny group chat conversations, our team got along very well this year. Some bonding memories that helped facilitate our bond included preparing our coaches' gifts, preparing the raffle basket for the Joan G breast cancer awareness tournament, and even setting up the cups on the fence for the play for the cure game. It's been a pleasure to represent my team and build long lasting friendships this season. On the contrary, as captain, I think there's a lot of pressure to always be the example and lead the team. Oftentimes, this means showing up to every practice on time to lead exercises. However, as a senior, dealing with my schoolwork, college applications, and my extracurricular activities all while being a proactive member of the team, is a lot of work. I think the biggest thing that helped me get through everything, though, was being able to budget my time well and having a supportive coach that was accepting of other responsibilities I had.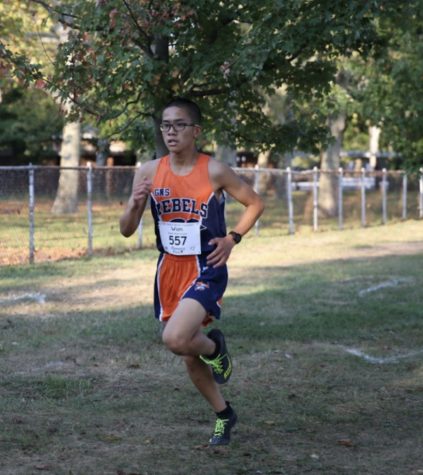 Senior Edison Won: My name is Edison, and I am the Captain of the Boys Cross Country Team. Cross country is seen to many as an individual sport, but you actually rely on your teammates more than you would think. Through those days of pouring rain, it is your teammates who convince you to keep going to practice. Even though this cross country season has not been my best, at least I leave the team knowing I've impacted many underclassmen in a positive way.

For me, being a captain not only means setting an example but also knowing your people. During this cross country season, we had 40+ boys sign up with about 30 of them being underclassmen. I make it a point every season to know their names and learn about their interests and goals. As a captain, I've prided myself in learning something about every member of my team. By learning more about them, if they are struggling in school, I can find guys on the team who can help them. However, finding the balance between school and sports will always be a struggle when you're a captain. Relying on your other captains and upperclassmen is key to maintaining the balance.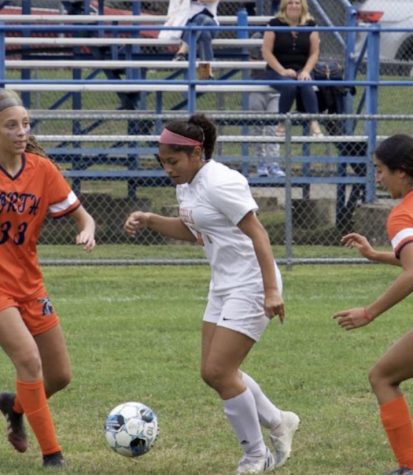 Senior Diana Flores: My name is Diana Flores, and I am the Girls Varsity Soccer Captain. Being the Lady Rebels captain this season has been one of the greatest roles I've ever taken on, full of laughter, love and pure connection on and off the field. There are times when it is your job, as a captain, to pick up the team in energy. We could be tied at halftime, and with an uplifting halftime talk, we can end up winning with 4 goals in the second half. (This did actually happen.) It is your job to guide on the field, be a cheerleader for your team, and always give one hundred percent to your team. Coach Nev always reminded us of the example a leader must be in both character and discipline, leading with respect for each other. Of course there are times where you, yourself, are not playing well. But as Captain, it is your job to put on a brave face, and uplift the team no matter how bad you are truly feeling. It is your job as Captain to be enthusiastic about the warm up laps, even though you truly are miserable knowing you are about to run. Being a Captain truly means putting your team first no matter what. You are there to lead and guide. Soccer is a beautiful sport that I have loved my entire life; my love for it has only grown with this team and the dynamic we have. I am forever grateful for this team and proud to be their Captain.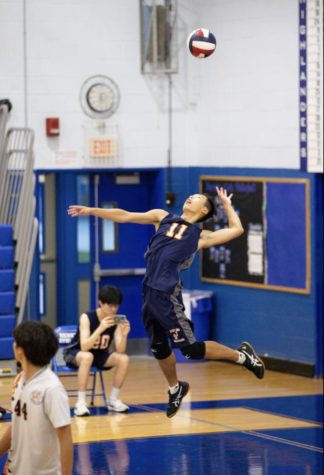 Senior William Zhou: The dictionary defines captain as "one who leads or supervises." Although I might not be the most physically built (sadly not 6'4") or the most experienced, I hope to have led the team through my unwavering spirit and my dashing charisma. In reality, the other captains kind of carried, but by being the loudest on the court, I hope my teammates were inspired by my mere presence and performed better. When we're losing, it's hard to be confident and loud; however, we just gotta find the spark that makes us believe in our ability and rise to the challenge. When we were initially losing to Floral Park, it wasn't looking too good for our team. Our starting setter twisted his finger and our libero broke four of his vertebrae. However, after rallying our team with a heart-wrenching speech, I helped us push past our limits and beat them.